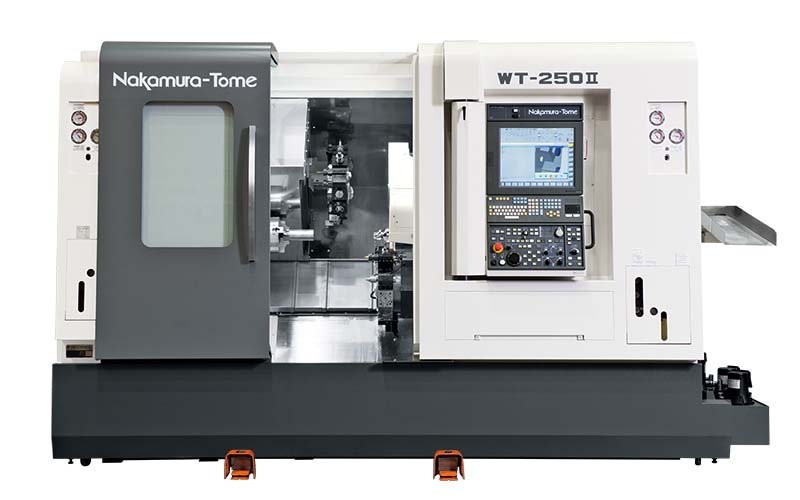 WT-250II
Multi-purpose super machine for various types of parts, for small and large batches
Up to 29.5kW cutting power available for turning shaft-work with synchronized spindles.(Left spindle motor 18.5/15kW , Right spindle motor 11/7.5kW)
Driven-Tool Motor Power 5.5/3.7kW,for heavy cutting with small tools.
With upper / lower turret construction,4-axis machining as well as various other machining combinations possible on either spindle
With upper / lower turrets and opposed two-spindle construction,cycle time balancing and reduction is possible.
With up to 24-tools per turret,48 tools can be permanently available.
Photos and Videos
Machine Specification
Capacity
| | |
| --- | --- |
| Max. turning diameter/Max. turning length | 250mm/555mm |
| Distance between spindle nose | max.885mm/min.265mm |
| Bar capacity | L:65mm R:51mm R:65mm(op.) |
| Chuck size | 8"215mm 6"165mm |
Axis travel
| | |
| --- | --- |
| Slide travel X | 195/195mm |
| Slide travel Z | 600/600/620mm |
| Slide travel Y(op.) | ±41mm |
Left spindle Right spindle
| | |
| --- | --- |
| Spindle speed | L:φ65mm/4,500min-1 ,R:φ51mm/5,000min-1 ,R:φ65mm(op.)/4,500min-1 |
| Left spindle motor | 18.5/15kW (op.26/22kW 15/11kW wide range) |
| Right spindle motor | 11/7.5kW op.15/11kW (18.5/15kW) |
Upper turrets
| | |
| --- | --- |
| Number of turrets | 1 |
| Spindle speed | 6,000min-1 3,600min-1 |
| Type of turret head/Number of index positions | Dodecagonal/24 |
| Driven motor power and torque | 5.5/3.7kW |
| Rotary system/Number of driven-tool stations | Individual rotation/12 |
Lower turrets
| | |
| --- | --- |
| Number of turrets | 1 |
| Spindle speed | 6,000min-1 3,600min-1 |
| Type of turret head/Number of index positions | Dodecagonal/24 |
| Driven motor power and torque | 5.5/3.7kW |
| Rotary system/Number of driven-tool stations | Individual rotation/12 |
General
| | |
| --- | --- |
| Floor space(L×W×H) | 4,059mm×2,314mm×2,225mm |
| Machine weight | 8,700kg |