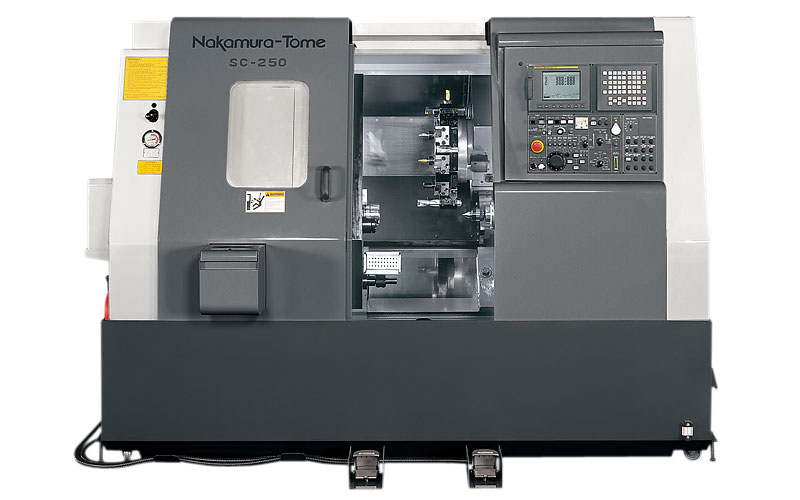 SC-250
Realization of both powerful cuts and better cost performance. 8 inch machine
Massive 45 Degree slant bed for maximum rigidity
15/11kW Wide-Range motor for powerful cuts
Quicker 'Non-lift' turret indexing to cut idle time
Box type slides and rigid turret for high accuracy
Bar capacity 51mm standard,65mm option.
All FANUC, CNC control and servo drives.
Dodecagonal 12 station turret
High quality painting,as well as stainless covers.
Machine Specification
Capacity
| | |
| --- | --- |
| Max. turning diameter/Max. turning length | 300mm/500mm |
| Distance between center | 689mm |
| Bar capacity | 51mm(op.65mm) |
| Chuck size | 8"215mm?10"254mm |
Axis travel
| | |
| --- | --- |
| Slide travel X/Z | 177.5mm/550mm |
| Slide travel Y(op.) | ±41mm |
spindle
| | |
| --- | --- |
| Spindle speed | 5,000min-1 4,500min-1 |
| spindle motor | 15/11kW(op.18.5/15kW) |
Turret
Number of turrets
1
Type of turret head/Number of index positions
Dodecagonal/12
10-station/10
Driven tools(op.)l
Spindle speed
3.7/2.2kW
Rotary system
Individual rotation
Rotary system
Individual rotation
Number of driven-tool stations
12
10
Tailstock(op.)
| | |
| --- | --- |
| Quill diameter/Quill stroke | 80mm/80mm |
| Quill taper | MT-4(Rotating center) |
Sub spindle(op.)
| | |
| --- | --- |
| Chuck size/Bar capacity | 8"215mm/51mm |
| Spindle speed/spindle motor | 5,000min-1/11/7.5kW |
| Distance between spindle nose | max.780mm/min.280mm |
General
| | |
| --- | --- |
| Floor space ?L×W×H? | 2,598mm×1,671mm×1,815mm |
| Machine weight | 3,800kg |