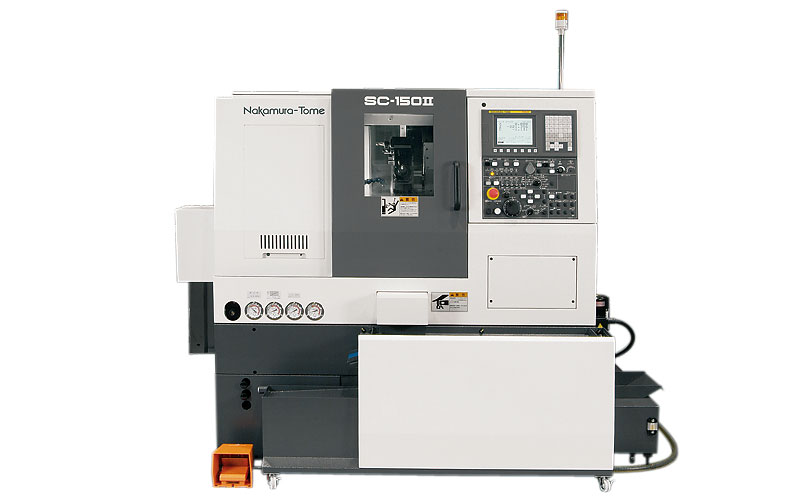 SC-150II
All axes are equipped with high-rigidity and high-resistance box-type slides
Massive box-way slides on all axes
11/7.5kW spindle motor
Spindle speed 6000min-1,Driven-tool speed 4000min-1
Faster rapid traverse 24m/min for the X-axis,and 36m/min for the Z-axis
Bar capacity 42mm standard, 51mm option.
All FANUC, CNC control and servo drives.
Dodecagonal 12 station turret
Space saving is 11% compared to the TMC-15
High quality painting,as well as stainless covers.
Photos and Videos
Machine Specification
Capacity
Max. turning diameter/Max. turning length
220mm/290mm
Distance between center
429mm
Bar capacity
42mm
51mm(op.)
Chuck size
6"165mm
Axis travel
| | |
| --- | --- |
| Slide travel X | 130mm |
| Slide travel Z | 320mm |
Spindle
Spindle speed
6,000min-1
5,000min-1
Spindle motor
11/7.5kW 75N.m 7.5/5.5kW 154.3N.m
Turret
| | |
| --- | --- |
| Number of turrets | 1 |
| Type of turret head/Number of index positions | Dodecagonal/12 |
Driven tools(op.)
| | |
| --- | --- |
| Spindle speed | 4,000min-1 |
| Driven motor power | 2.2/1.5kW |
| Rotary system/Number of driven-tool station | Simultaneous rotation/6 |
Tailstock(op.)
| | |
| --- | --- |
| Quill diameter/Quill stroke | 50mm/80mm |
| Quill taper | MT-3(Rotating center) |
General
| | |
| --- | --- |
| Floor space (L×W×H) | 1,795mm X 1,405mm X1,625mm |
| Machine weight | 2,700kg |